One Small Step
February - March 2019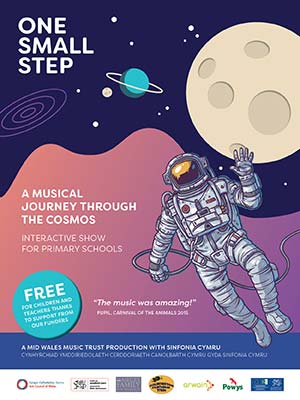 One Small Step - A Musical Journey Through the Cosmos
Un Cam Bach - Taith Gerddorol Drwy'r Galaeth
Performance schedule & box office
Monday 18 March 2019
10.30am and 1.30pm
Theatr Brycheiniog, 01874 611622 / sean@brycheiniog.co.uk
Tuesday 19 March 2019
10.30am and 1.30pm
Wyeside Arts Centre, 01982 552555 / marketing@wyeside.co.uk
Wednesday 20 March 2019
10.30am and 1.30pm
The Hafren, 01686 614555 / boxoffice@thehafren.co.uk
Tickets are free for children and their teachers, thanks to generous support from our funders!
Join MWMT and Sinfonia Cymru for our latest show, specially designed for primary school children aged 6 - 11. Inspired by the 50th anniversary of the moon landing, the show lasts one hour and there will be plenty of interaction together with songs to join in with. Guide tracks and resources will be sent to all participating schools and are also available below to download. We hope you can join us!
Resources
'One Small Step' is part of our three-year 'Joined Up Music', project which has enabled us to work closely with schools, music organisations and arts venues across Powys, as well as the professional chamber orchestra Sinfonia Cymru. Joined Up Music is made possible through funding from Arwain, the EU Rural Development Programme, partnership support from Sinfonia Cymru, Theatr Brycheiniog, The Hafren and Wyeside Arts Centre, and match funding from the Ashley Family Foundation and Colwinston Charitable Trust.