A Musical Sketchbook
June - July 2015

A MWMT/MWCO coproduction with The Hafren, Wyeside Arts Centre, Devon Music Education Trust and Wigmore Hall Learning
During June and July 2015 composer John Webb, illustrator Karen George and pianist Robin Green worked with Foundation Phase children in four primary schools in mid and north Powys.
A Musical Sketchbook – devised in collaboration with Wigmore Hall Learning – was inspired by Robert Schumann's Scenes from Childhood.
Workshops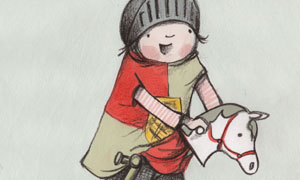 In a series of five workshops at each school the children explored Schumann's music and used it as a springboard for their own creative song-writing which they then enriched with illustrations.
The new works were presented to their schools and families in four concerts on the 9th and 10th July and each child took home a recording of the music from the project and their own 'musical sketchbook'.
Here is the project song 'What would we do', set to 'Knight of the Hobby Horse' from Scenes from Childhood:
What the children said
"I learnt that it's better to work as a group than it is to just keep it all to yourself." (pupil)
"I liked it because it was our own creations of the songs and we could just sit there with each other and have fun." (pupil)
"I learnt that even if you are doing something you don't like, it can actually turn out pretty fun, and you like it." (pupil)
What the teachers said
"This project has really helped me to develop my teaching practice. It's been great for the children and I've learnt so much too."
"I didn't realise writing a song could be so easy, e.g. lyrics, melody on glockenspiel. Great!"
"They developed collaborative working amongst themselves whilst observing the excellent working partnership of the adults around them."
Our supporters
Thanks to the following who made this project possible:
The Arts Council of Wales
Austin and Hope Pilkington Charitable Trust
Devon Educational Trust
Devon Music Education Hub
The Elmgrant Trust
Gibbs Trust
The Hafren
Llysdinam Trust
Mid Wales Music Trust
Oakdale Trust
Wigmore Hall
Wyeside Arts Centre