Fidelio
March 2020
Thank you to Raph Clarkson, Sinfonia Cymru and all the primary schools who joined us for our Fidelio performance and participation project and helped us celebrate Ludwig van Beethoven's 250th anniversary in style across Powys!
Raph together with violinist Sophie Simpson led songwriting workshops and singing assemblies at six Powys primary schools: Forden, Franksbridge, Crickhowell, Llanfaes, Archdeacon Griffiths and Carreghofa Primary Schools. Key Stage 2 pupils in each of these schools created their own original songs, imagining how Leonora, the heroine in Beethoven's opera Fidelio, felt as she set out to rescue her wrongly imprisoned husband Florestan (see below for links to their songs). Raph arranged the music for the Sinfonia Cymru musicians, and at each of our six Fidelio performances one of the workshop groups performed their song on stage.
"Can we do it again next year?" (pupil)
"Next time I find an invitation from Mid Wales Music Trust in my inbox I will be replying straight away!" (head teacher)
"I liked the freedom we had to make the songs ourselves and come up with our own ideas" (pupil)
"That was absolutely amazing! I'm so proud of what the children have achieved, I had a tear in my eye watching them on stage" (head teacher)
"Wow! What a wonderful morning [at The Hafren]. Thank you for involving us in the project." (class teacher)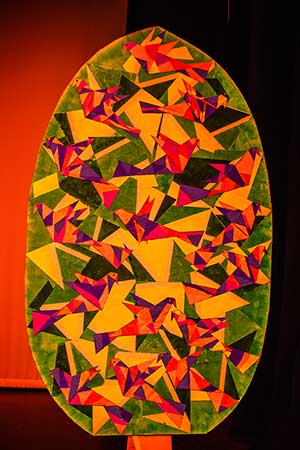 Pupils from a further five primary schools (Llanrhaeadr ym Mochnant, Llanidloes, Buttington Trewern, Priory Church in Wales and Builth Wells) worked with artists Hilary and Graham Roberts to create the stage designs for the show.
We welcomed a total audience of over 1,600 from 16 schools plus home educated children to the six shows at Theatr Brycheiniog, The Hafren and Wyeside Arts Centre. As well as the performances by the songwriting groups, the whole audience joined in with singing, on-the-spot composing, and dramatic actions to help bring the story to life. The music featured included arrangements of the Prisoners' Chorus and Gravediggers Duet from the original opera, Ode to Joy, together with other music by Beethoven and composers including Shostakovich, Clara and Robert Schumann, Bartok and Stravinsky.
Later this Spring/Summer, the songwriting groups will have the opportunity to extend their musical skills further by participating in whole class instrumental taster sessions. These will be delivered by our project partners South Powys Youth Music and Montgomeryshire Youth Music, using their instrument banks, and will culminate with mini 'orchestral' performances by the children in each school.
Leonora's Songs
Resources
Project partners
Sinfonia Cymru
Montgomeryshire Youth Music
South Powys Youth Music
Theatr Brycheiniog
The Hafren
Wyeside Arts Centres
Thank you
...to the individual donors, trusts and foundations who have made Fidelio possible: Arts Council of Wales, Foyle Foundation, Powys Community Endowment Fund (through the Community Foundation).