Joined Up Music: Year 1
2017
The Joined Up Music project runs from 2017 – 2019 and includes workshops, performances and instrumental taster sessions for schools. The aim is to strengthen partnership working between music organisations, arts venues and schools to enable greater access to high quality music education for young people growing up in rural Powys.
Joined Up Music is made possible through funding from Arwain, the EU Rural Development Programme, partnership support from Sinfonia Cymru, South Powys Youth Music, Theatr Brycheiniog, The Hafren and Wyeside Arts Centre, and match funding from trusts and individual donors.
May 2017: Black Dog - Key Stage 2 Music and Puppetry Workshops & Performances, South Powys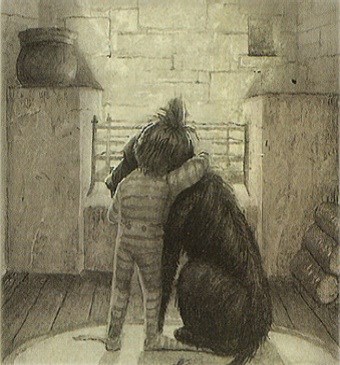 Music and puppetry workshops at Clyro Primary School and Ysgol Penmaes in Brecon
A new interactive show for schools devised by musician and educator Raph Clarkson and inspired by Levi Pinfold's award-winning children's story Black Dog
Puppetry devised and designed by Issy Wilkes
2 performances at Theatr Brycheiniog on Monday 22 May 2017 incorporating new songs created by the workshop groups and performed by Raph and Issy together with Huw Warren on piano, Laura Jurd on trumpet, Chris Williams on saxophone, Huw Williams on double bass, Harry Pope on drums
"these guys were brilliant!" (teacher)
"I really enjoyed making my shadow cat puppet and showing it from behind the screen" (Eve)
"I loved the song 'Look for the silver lining' because it was happy, and I liked the piano in 'Flow my tears'. I also liked 'Small's Song' because it was funny. It was all amazing." (Owen)
Timbuktu Music, Creative Writing and Art Workshop Day
Gwernyfed High School
Led by music leader John Webb, and writer Tom Bullough together with Gwernyfed staff: Beth Walker (Music), Kayleigh Hughes (Art), Chrissy Williams (English)
Attended by Year 5 children from Llyswen, Hay-on-Wye, Clyro, Talgarth/Bronllys and Llangorse Primary Schools as the focus of their secondary school taster day
Pupils' feedback
"It was exciting, as we got to have fun and to realise that music is not all about studying, but about enjoying yourself by making tunes."
"We enjoyed singing the song and changing it, because it was so interesting to see if it worked or not."
"We were surprised by how quickly we came up with a song."
"I liked the music, because you actually played instruments."